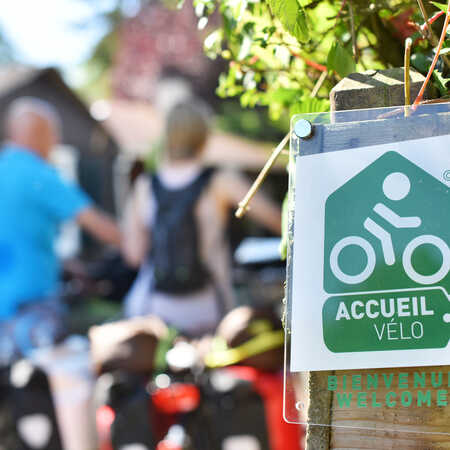 © J. Damase
south
Les lieux de visites qui accueillent les cyclistes
Avec plus de 80 sites de visites labellisés Accueil Vélo sur La Vélodyssée, c'est la garantie de pouvoir visiter en toute tranquillité !
Voir la carte de tous les sites de visites accueil vélo
 
Les sites de visite Accueil Vélo vous assure les services suivants :
*ce service n'est pas proposé par tous les sites
directions_bike
à moins de 5 km de l'itinéraire
local_parking
1 parc de stationnement vélo
water_drop
1 point d'eau potable
wc
1 sanitaire à disposition
electric_bike
1 prise pour recharger
luggage
1 consigne à bagages*
Vous aimerez aussi...
What is the "Accueil Vélo" (Cyclists Welcome) accreditation scheme?
"Accueil Velo" is a national accreditation scheme guaranteeing a high quality of welcome and services for cyclists using French cycle routes.