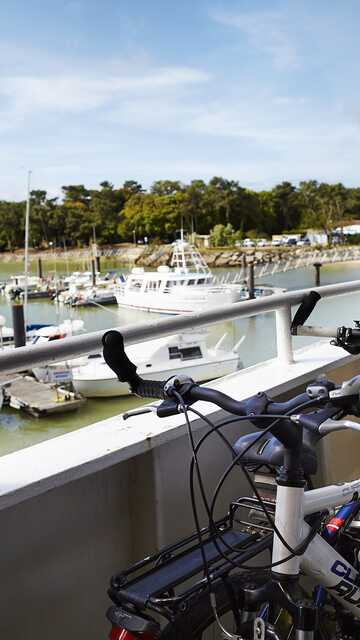 Traversée du bassin d'Arcachon en bateau avec son vélo
south
Crossing rivers or getting to islands
River and inter-island transport on La Vélodyssée
Feel like taking a break on an Atlantic island or crossing one of the rivers that intersect with La Vélodyssée in the company of your bike? Here's how:
Visit to Batz Island
Every day of the year, regular ferry services operate from the old port at Roscoff to Ile de Batz. You can take your bicycle on board, but trailers and electric bikes are not allowed.
More info
Canal boat rentals on the Nantes-Brest Canal
If you fancy doing part of the La Vélodyssée route in a narrowboat or licence-free rental boat, then you can! Take your bike on board with:
- www.bretagne-fluviale.com between Glénac (Morbihan) and Sucé-sur-Erdre (Loire-Atlantique)
- Go to the marinas at Sucé-sur-Erdre et Nort-sur-Erdre. More info
River crossings in Nantes
You can get back to La Vélodyssée on the other side of the Loire by the overland route or by boat! All the 'Navibus' water buses accept bikes (subject to approval by the crew), without any extra charge:
- go to the picturesque fishing village of Trentemoult from the ferry terminal,
- cross the River Erdre between Port Boyer and Petit Port Facultés.
More info
Boat trips on the Nantes <> St Nazaire Estuary
With Marine&Loire, you can take your bike on board certain boats departing from St-Nazaire or Nantes and go exploring the Loire estuary from a different perspective with a registered guide.
Find out more.

To get to La Vélodyssée at St-Brevin from St-Nazaire (or vice-versa), take the Lila network bus line n°317.
The River Loire ferries
On the Nantes > St-Brevin section, if you fancy crossing the River Loire with your bike, why not try the ferry? The service operates from two points:
- from Indret to Basse-Indre
- from Le Pellerin to Couëron
Find out more
Crossing the Saint-Nazaire Bridge
Crossing the St Nazaire Bridge by bike is strongly discouraged. There are two options for crossing from Saint-Brevin-Les-Pins to Saint-Nazaire (or vice versa):

- Shuttle Bus + Bike: to spring break, and summer, every hour in each direction of travel, a free shuttle bus connects Saint-Brévin and Saint-Nazaire. This service is free and without reservation (8 people maximum)
Find out more

- Taxis + Bike: Taxis from Saint-Brevin and from Saint-Nazaire are equipped with « standard » bike carriers.
Saint-Brevin Taxis: 02 40 27 23 07 / Saint-Nazaire Taxis: 02 40 66 02 62
Visit to Noirmoutier Island
A signposted link will take you directly from La Vélodyssée to the island of Noirmoutier via the famous passage du Gois. Warning: this is a submersible route and is therefore only accessible at low tide.

Less picturesque, but usable 24 hours a day, the Noirmoutier Island Bridge has its own cycle path and connects with La Vélodyssée in Fromentine.
Find out more
Visit to Yeu Island
Take your bike with you and embark for Yeu Island, or Ile d'Yeu from La Barre de Monts/Fromentine. Service operated by: Compagnie Yeu Continent
Visit to Ré Island
The simplest way to get to Ré Island is to use the bridge. This is totally safe for bikes as the designated cycle path has a dividing wall separating cyclists from traffic. 

In July and August, go to Sablanceaux-Plage, the gateway to Ré Island, on the bike-friendly bus specially equipped for bike transportation! Departures from Place de Verdun in La Rochelle.
More information on Bus line 51

Please note that you must choose one of these options as the boats operated by Croisières Inter Iles do not accept bikes!
Visit to Aix Island
This is the only totally traffic-free island in the Charente-Maritime! So a boat trip is required to get there! Summer and Winter alike, 365 days a year, sailings between Fouras and Aix Island are operated by the boat company 'Service Maritime de l'île d'Aix', which accepts bikes on board.
Find out more
Visit to Madame Island
Accessible only by a submersible causeway, this island can only be reached at low tide. Make sure you check the tide timetable if you want to visit this tiny (0.78km²) island! See the schedule for times when the pathway is OPEN.
Visit to Oléron Island
You are advised to go to Oléron Island by boat as this is safer than travelling by road. From July to early September, the 'Bateau Passeur' water taxi service takes both foot passengers and cyclists. But from La Vélodyssée, the most practical option is the sailing between La Tremblade (on the mainland) and St-Trojan-les-Bains (on the island).
Find out more
Ferry service Royan – Le Verdon
When following the La Vélodyssée cycle route, you will have to cross the Gironde Estuary between Royan (Charente-Maritime) and Le Verdon (Gironde).
Find out more