Proshop CUBE
Rond-point de la République, Z.I. des 4 Chevaliers 17180 Périgny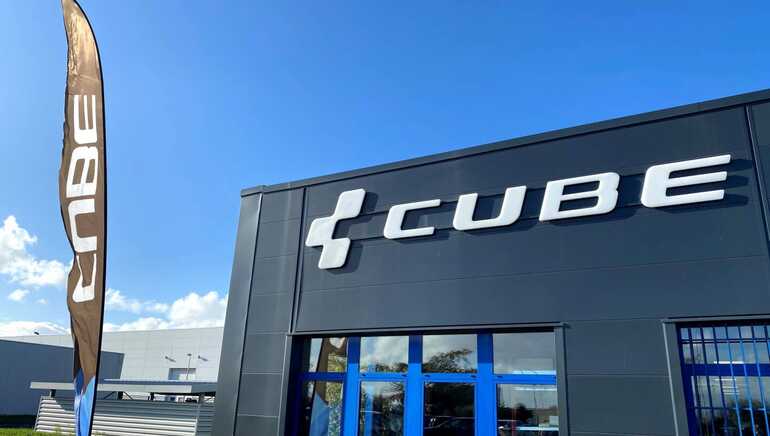 Rond-point de la République, Z.I. des 4 Chevaliers 17180 Périgny
The Cube team welcomes you in a magnificent 600m² showroom. You will be able to find a bike made to measure, from the absolute beginner to the seasoned athlete, or simply relax in its cosy corner (lounge, bar, pool table, table soccer, etc.).
The Proshop Cube located near La Rochelle, offers a wide range of bikes and accessories.
You will be welcomed by Didier our MENTOR, Christophe the PRO of versatility, Arno our MECHANIST, Romain the king of the NETWORK and Laëtitia for the small feminine note! Real enthusiasts will welcome you around a coffee and a good mood to advise you, bring you solutions, help you, etc., the service is omnipresent.
From city bikes, mountain bikes, road bikes, track bikes, gravel bikes, cyclocross bikes, children's bikes, electric bikes, to leisure bikes, from bike packing to professional bikes. You can find all the necessary equipment to decorate your bike according to the desired activity.
And if your heart is in the right place, don't hesitate to come and test our bikes, in front of the store or for the day, everything is allowed!
The store has a workshop, but above all, our mechanics have years of experience in maintaining and repairing your equipment, not to mention the fact that they use their bikes every day. A problem of brake pads, disc brakes (cable or hydraulic), telescopic forks, tubeless, luggage rack or what do I know! They will always find a solution to your mechanical problems. Our team regularly participates in training sessions to keep up to date.
In addition to enjoying quality equipment, we offer a relaxation area / coffee-tea room where you can wait for an express repair, take a break during a bike ride or simply exchange experiences between enthusiasts. Games are at your disposal for the less grown-ups.
A room is dedicated exclusively to the postural study "Morpho-logics". This software allows you to carry out complete postural studies in order to preserve your health, optimize your performance and your comfort in order to give you even more pleasure and sensations on your bike.
New features are in progress such as bike rides or online contests via Whaoo...
Contact par
mail
* Required fields
Report a problem with this establishment
* Required fields