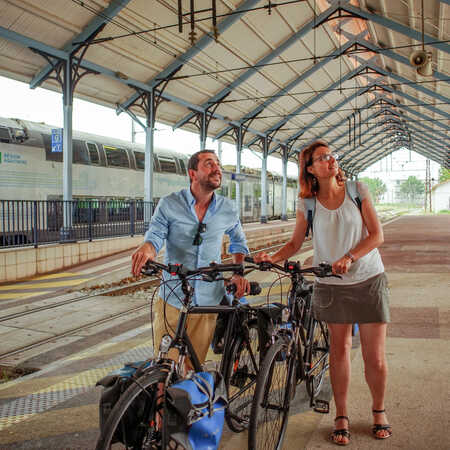 Cyclistes en gare d'Arcachon © LaVelodyssee-Aurelie-Stapf
south
Travelling by train with your bike
Do you want to travel to La Vélodyssée by train, with or without your bike?
How to get to La Vélodyssée by train
If this question comes up so frequently, it's because it's important to plan ahead so that your trip goes without a hitch. To answer it as clearly and accurately as possible, this article is organised into five parts:
Travelling to the cycling route via mainline railway stations;

Transporting standard bikes;

Transporting special bikes and accessories;

Alternatives to travelling by train;

Information from the SNCF: works, new services for cyclists, partnerships, etc.
 

Now let's get straight to it!
 
Mainline railway stations: a gateway to La Vélodyssée
Several major railway stations are dotted strategically along the 1,250-kilometre cycling route in Morlaix, Nantes, La Rochelle, Bordeaux and Hendaye. These stations are connected to the rest of France, thus providing direct access to the Atlantic coast. Note that it is very often possible to travel from one station to another by coach. You can also travel the full length of La Vélodyssée by train, from top to bottom. This gives you greater freedom if you are travelling one way, for example.

Here is a map of the French rail network:
Locate railway stations on the route maps on our website by selecting 'Station' in the ⓘ section.
Transporting standard bikes
If your bike is dismantled and stored in a 120 x 90 cm travel case, it counts as hand luggage and does not require a reservation. It will be accepted free of charge on all trains, subject to availability (extra luggage option on OuiGo trains).

However, if the bike is not dismantled or folded, it will be subject to terms and conditions for transporting 'standard' bikes, which vary according to the type of train.

Here is a summary:
Summary table
Type of train

Dismantled bikes

Fully assembled bikes

Reservation required

Fee

TER

Permitted in a travel case

Permitted

No

Free

TGV INOUI

Permitted in a travel case

Permitted

No if dismantled

Free if dismantled

Yes, if fully assembled

€10 if fully assembled

INTERCITY TRAIN

Permitted in a travel case

Permitted

No if dismantled

Free if dismantled

Yes, if fully assembled

€5 to €10 if assembled, varies from line to line

OUIGO

Permitted in a travel case

Not permitted

Yes

€5

Transporting special bikes and accessories
While it is possible to transport standard bikes, unfortunately this is not yet the case for special models. For safety reasons, bike trailers are not allowed on intercity trains, TERs and TGVs, regardless of their size or shape. 'Outsize' bikes are subject to the same restrictions and are not allowed on board for the same reasons. These include tandems, tricycles, recumbent bikes, cargo bikes, etc.

Train + bike: there are other options!
Option 1: Consider having your bike delivered to your final destination on the Atlantic coast (Mimizan, La Rochelle, Nantes, etc.).
For example, BicyBAGS charges €23 to deliver two bikes per 100 km segment and €20 to deliver five bikes per 100 km segment (service available between Nantes and Hendaye).
Option 2: Remember that SNCF will also deliver luggage to your home. This service is currently getting a makeover and will be up and running again in June 2021. Before it temporarily closed down, the delivery charge was €80/bike/journey, with bikes treated as large luggage.

Option 3: Consider renting a bike and returning it at the end of your itinerary: several rental companies offer this "one-way" service.
 
Option 4: Rent a bike when you get off the train or in the area around your accommodation: click here to see a map of "Accueil Vélo" rental companies close to the railway station.
 
Option 5: Use the dismantling kits provided from 14 July in the following railway stations: Hendaye, St-Jean-de-Luz, Ciboure, Biarritz, Bayonne, St-Vincent-de-Tyrosse, Dax, Bordeaux St-Jean, Arcachon, La Teste, La Rochelle and Nantes.
Information from SNCF about ongoing works, new services for cyclists, partnerships... everything you need to know!
If you're looking for specific information that isn't included here, we suggest you start by consulting the SNCF website, particularly the page on bike transport. The French website LeCyclo may also be of valuable aid to you when planning your journey.

For intercity trains and the TGV, buy your passenger + bike ticket online, on the SNCF website. TER, OUIGO and iDTGV tickets cannot be purchased online.

In all trains, the number of bike spaces is limited. We recommend that you arrive early, avoid peak times and book well in advance.

For the purposes of quality, SNCF may introduce new services or carry out improvements. We'll do our best to keep you informed of any actions that might affect you.
Have a good trip! 😎
Did you like this?
You may also be interested in this...