Hôtel Atlantide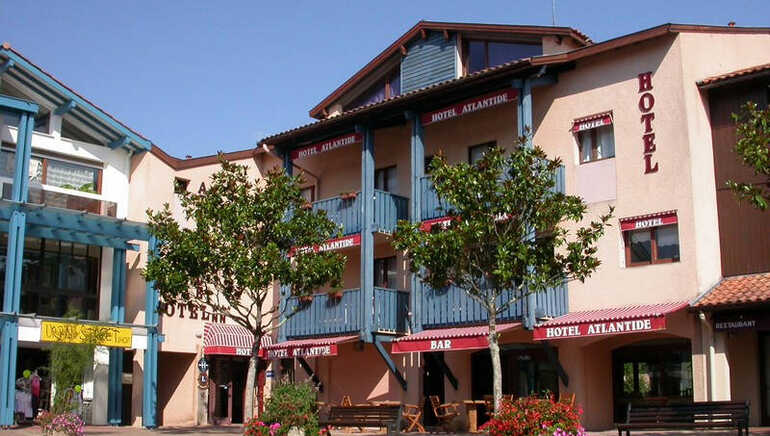 Set between the lakes, ocean and pine trees. Quiet, modern rooms (canal+, satellite TV). Half board possible on request. Children's garden. Holiday vouchers accepted.

Bedrooms, based on a 2 people occupancy, are furnished with a double bed or two single beds, with full bathrooms equipped with a shower or a bath tub and toilets. Minibar enclosed. Free WiFi internet access.
Pour bien vous recevoir : L'hygiène et la propreté sont des sujets qui nous tiennent particulièrement à cœur. Notre hôtel utilise des protocoles récents de nettoyage et de désinfection, destinés à nettoyer les chambres à fond après chaque départ et avant chaque arrivée. Nous avons aussi augmenté les fréquences de nettoyage et désinfection au niveau de la réception, terminal carte bancaire, ascenseur, poignées de porte, main courant escaliers, couloirs, les interrupteurs et la clé de chambre.

Nous invitons à utiliser le gel hydro-alcoolique mis à disposition au comptoir de la réception et nous vous prions de respecter la distance de 1,5 mètre dans notre établissement.

Pour une arrivée sans contact nous proposons une arrivée par SMS avec une digicode pour la porte entrée.
Au départ, nous vous prions de mettre la clé de chambre dans un bac destinée pour désinfection au comptoir de notre réception.
Nous ferons notre maximum de vous accueillir et satisfaire en toute sécurité pour que vous puissiez passer un bon et agréable moment sans soucis, durant votre séjour dans notre établissement.
Contact par
mail
* Required fields