By the water, Seaside, Nature & small heritage
La Vélodyssée now heading north, advances to a few hundred yards from the Côte d'Argent, gradually getting closer to Moliets-et-Mâa and Messanges. The route finally meets the powerful ocean at Vieux-Boucau, the former port (until the river Adour was re-routed to Bayonne in 1578) and today a very pleasant stopping point.
Waytypes of the stage
Cycle path: 11,08 km
By road: 5,57 km
Itinerary
This stage of La Vélodyssée in the Basque Country is of great interest. Once over the river Nive, the sea returns as a familiar horizon. At the heart of the BAB country (Biarritz-Anglet-Bayonne) are beautiful beaches, important cultural sites and a remarkable architectural heritage. A cycle lane takes us towards the Anglet beaches up to the ports of Hendaye.
Connection
The connection towards Biarritz station is on a steep incline.
Did you like this?
You may also be interested in this...
They did it!
favorite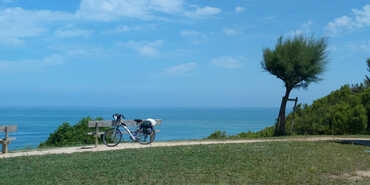 Première expérience à vélo de 15 jours : 482 km au compteur !