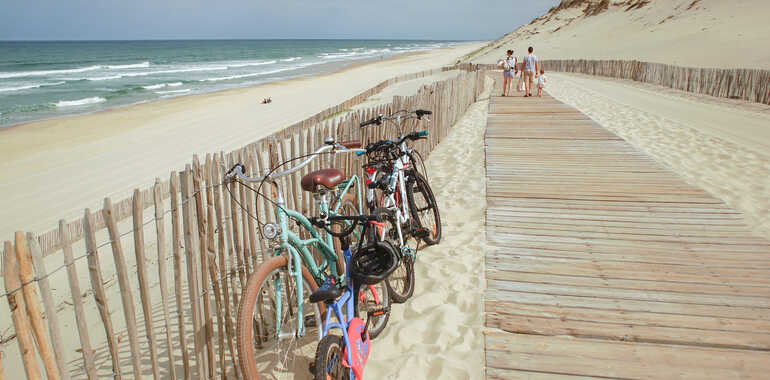 This tour takes you around the largest freshwater lake in France. You're in the Médoc Atlantique. With more than 400 km cycling paths, bikes are king here. Take this itinerary for a leisurely ride, to expend energy or to admire nature and the exceptional viewpoints featuring forests and ocean.
Looking for services or a stopping point to spend the night? Even in the off season, this loop has easier access to services and/or accommodations open in the evening. During high season, an even wider range of accommodation is available.



The 6000 ha Carcans-Hourtin lake, bordered by a dune and a forest, features a protected eastern shore that's a Natura 2000 site, little beaches hidden in the canals to the west and a 2 km long beach at Maubuisson.
Its environment attracts a wide variety of heritage and protected species. 
This is your opportunity to cycle around the largest freshwater lake in France starting from La Vélodyssée. Recharge in the middle of maritime pines on this year-round route and enjoy incredible viewpoints overlooking the lake. Got a picnic in your backpack? Are your bike tyres properly inflated? Then you're ready for a cycle tour loop of Carcans-Hourtin lake. Inhale the scent of pine and sea spray and pedal to the rhythm of bird songs. Awaken your senses on the Médoc Atlantique's many trails. 
Things to see along the route:
Réserve naturelle des Dunes et Marais d'Hourtin: The Hourtin dunes and marshes nature reserve is a 2150 ha area that has all the features of the sandy Aquitaine coast: beaches, dunes, pine and evergreen oak trees, marshes and a lake. The Office National des Forêts manages this space. Open access and guided tours available.
Contaut lagoon: Located within the Hourtin nature reserve, the Contaut lagoon is one of the wetland areas behind the range of coastal dunes. In its small space, this well-hidden gem packs innumerable things to astonish and delight. A wooden walkway gives you a comfortable way to explore and allows you to see forest growth that's typical of wetland areas that are naturally drying out. This transforms the land into peat and the area becomes a natural reservoir for many animal species. Open access and guided tours available. 
Le Piqueyrot: This piece of paradise is worth a little detour. It's an ancient fishing village and a place to relax beside the lake in the shade of pine trees.
Port of Hourtin: Located on one of the largest freshwater lakes in France, the port of Hourtin has 500 moorings. With restaurants and bars with terraces, accommodation, various leisure activities like fishing, picnic tables and bathroom facilities, the port area has everything needed for a pleasant stop by the water. 
Île aux enfants: Located on Hourtin lake, Île aux Enfants is a protected little paradise where little ones and grown-ups can all have fun. No cars are allowed here! There's a wooden castle and a rope pyramid that looks like a giant spider's web to entertain the kids.
Bombannes estate: This natural oasis in Carcans Maubuisson is paradise for anyone who loves outdoor sports. There are many activities for every level and any age like tennis, beach volleyball, a ropes course, archery, surfing, wakeboarding, paddleboarding, canoeing and more. A long, fine sand beach boarders Carcans lake at Bombannes. There you'll find picnic tables under the pines. This natural protected site can be explored on foot or by bike. 
Did you like this?
You may also be interested in this...