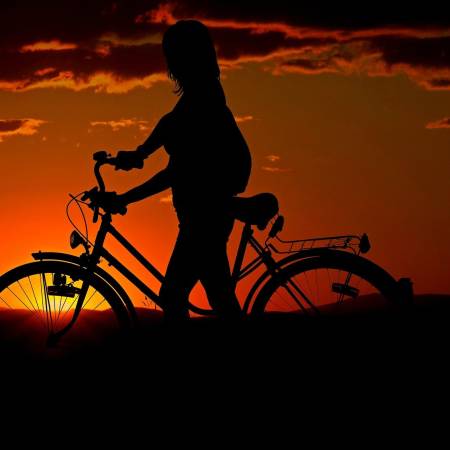 © Pixabay
© Pixabay
south
Bike touring with a dog
Yes, travelling with your pet on La Vélodyssée is possible!
If you've ever wondered whether you can take a bike trip with your pet, the answer is yes. But it does require a bit of training in advance and some good preparation so that humans and animals can get the most out of the trip. Then you'll be ready to enjoy many moments of pure happiness with your best friend.
Read on for our tips on logistics and pet well-being.
How to transport your pet
There are several options for travelling with your pet, like dog baskets, child trailers and dog trailers. But which one should you choose?
Dog baskets
These are great for small dogs and come in a wide range of styles. They hold animals weighing up to 12 kilos and easily attach to the front of your bike or pannier rack. If you use a rear basket, it will be easier for your dog to sit down and fully enjoy the trip.

Child trailers
You may want to choose this option if you have a larger dog or even a small dog that you want to make extra comfortable. But remember that you'll need to adapt the trailer to your pet by removing the seats and belts and strengthening the trailer floor. And add blankets so your dog can settle in comfortably. Be careful when the fabric cover gets wet. It takes longer to dry and if your dog is also wet, they'll have a hard time drying out.

Dog trailers
These are perfect for a large dog or several smaller dogs. While they're heavier for humans, your pet will be safe and comfortably seated. It's the best solution for bike touring with a dog over multiple days. Since they often have side openings, your pet will be able to enjoy fresh air and the lovely scenery on La Vélodyssée.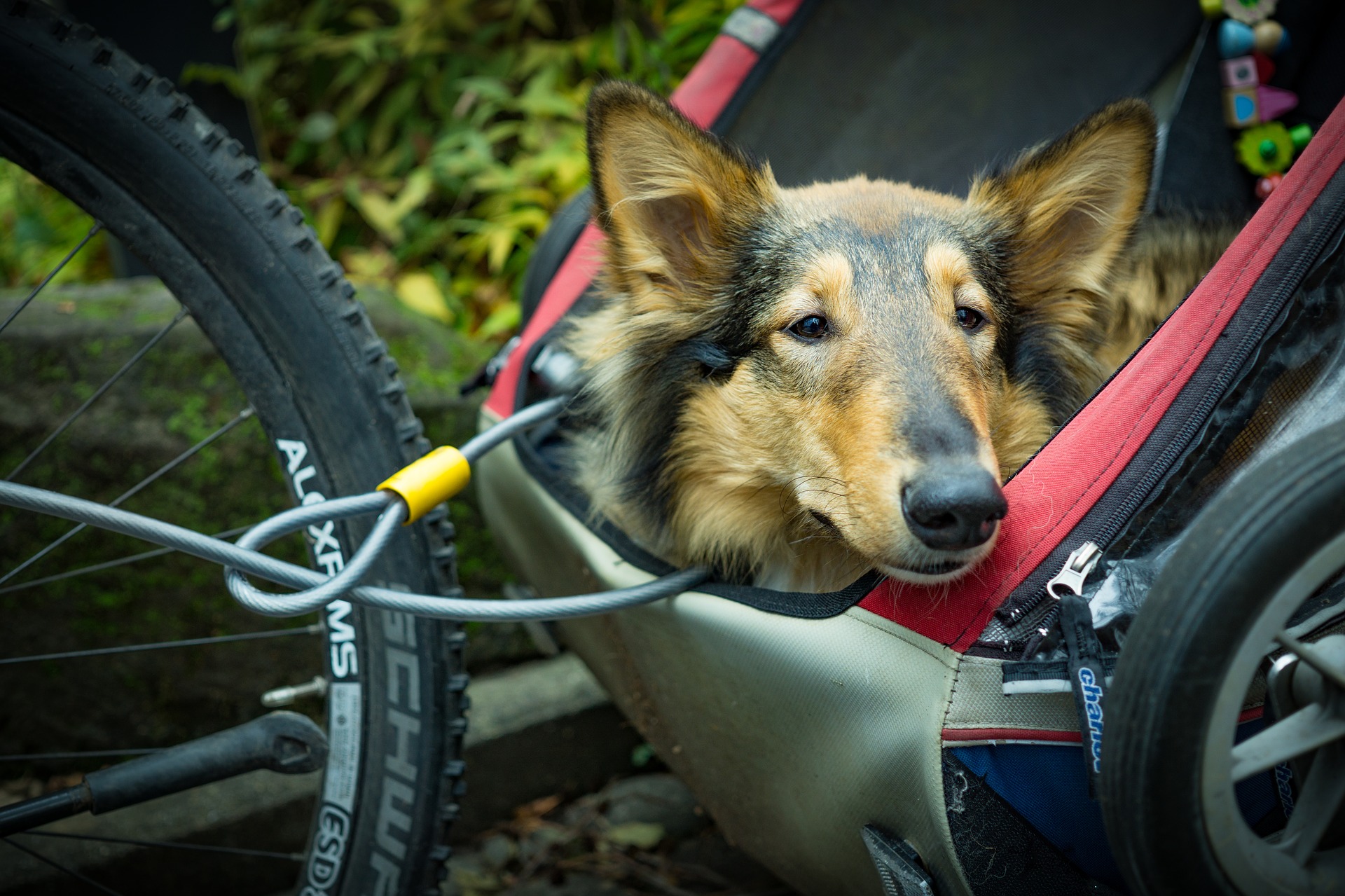 Adapt your trip to your pet
It's important to plan for breaks, both for you and your pet. For the humans, you'll be dealing with the weight of the bike, dog, trailer and panniers. So you'll need to listen to your body. 
As for your pet, they'll need to get some exercise along the way. They can't stay in the trailer or basket the whole time. Let them run beside you for awhile, but be sure to keep an eye on their endurance. You should also plan to take walks in nature along the La Vélodyssée itinerary so your pet can play a bit. Remember that you're on vacation, so relax, take your time and enjoy the moment.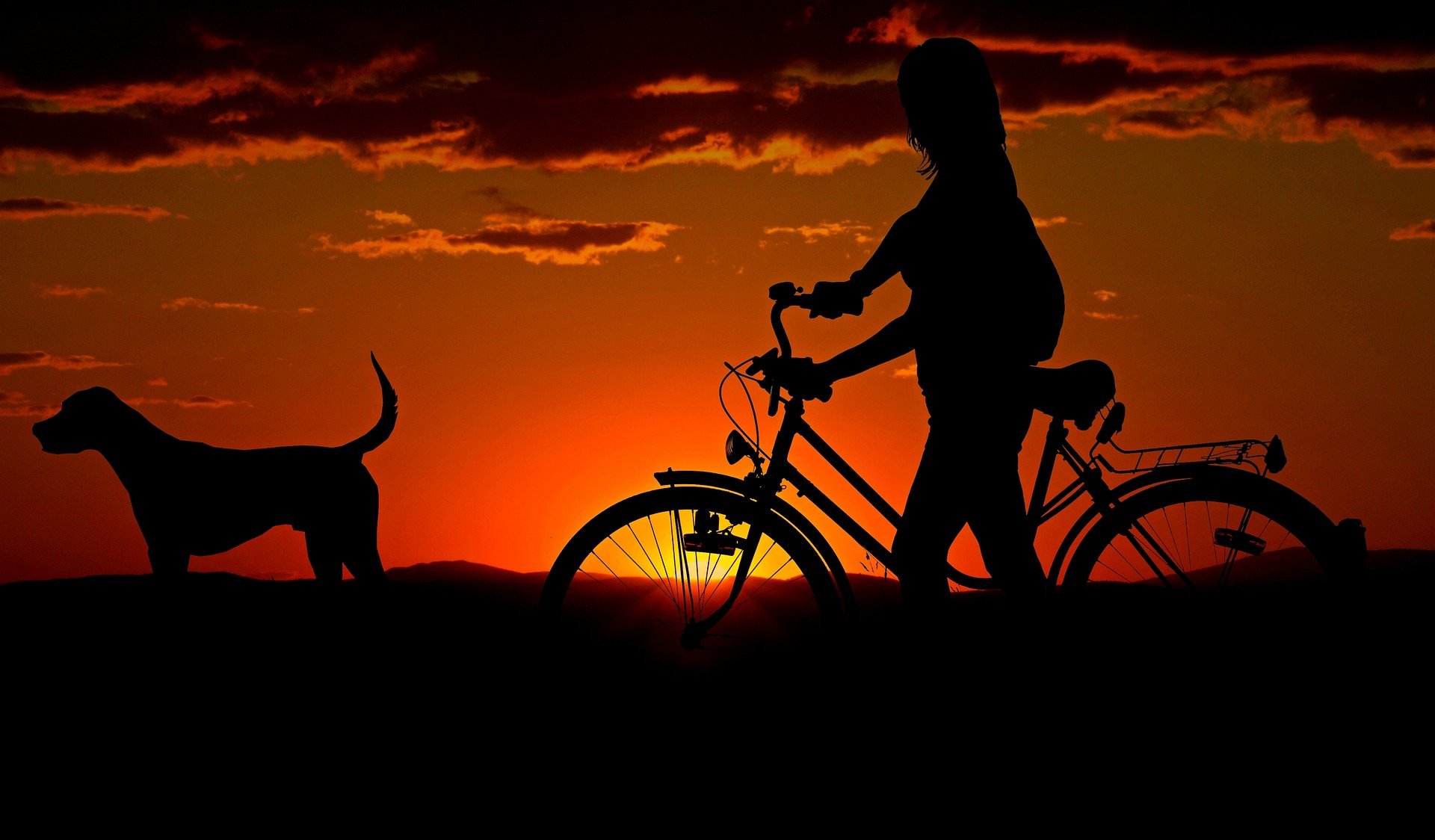 How to train your dog for the trip
Before heading out on La Vélodyssée, your pet will need to be well trained so they obey your commands, which will also help them stay safe.
We suggest you do several training sessions with the trailer (or basket) before heading out on your adventure. 
Pets and their humans also need to get used to the technique of running next to the bike. It's important to set up some rules and habits so that everyone stays safe and fully enjoys the trip. You also need to pay careful attention to your dog's behaviour since you're the one who knows them best.
---
Need some more convincing from someone who's travelled with pets? Marine and Damien from the Pieds et Pattes Liés blog travelled La Vélodyssée with their four-legged friend N'Lou. Read their summary post here and their preparation post here. 

Bordeaux-based blogger Amélie Tauziede also explore La Vélodyssée with her four-legged companion, Oslo. Check out her post on the experience.

If you've already taken a bike trip on La Vélodyssée with your dog (or even your cat), we'd love to hear about it.