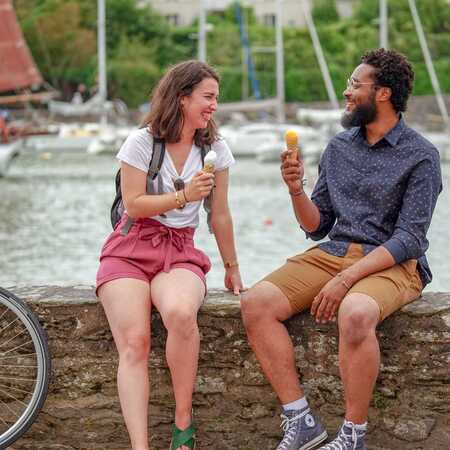 pause glace sur La Vélodyssée © A. STAPF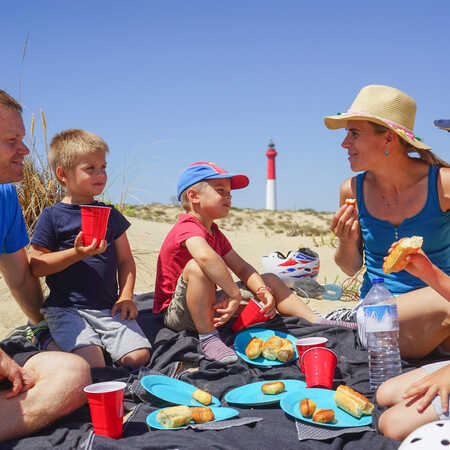 Pique-nique en famille sur la plage © A. STAPF
south
Cycle touring cooking recipes
Tired of eating pasta? Here are a few cycle touring cooking ideas to mix things up.
Who says that a cycling tour means eating plain pasta for every meal? Cooking while touring is possible! You need good meals that provide plenty of energy. Here are some Made in La Vélodyssée meal ideas.
Along with your camping stove, think about bringing reusable fabric bags for your shopping, storage containers, protein bars, and seeds and nuts (almonds, hazelnuts, pumpkin seeds). You can also put jam or honey in a plastic jar to reduce the weight. But, be sure to bring just what's strictly necessary. You can always do some shopping at local markets to pick up tasty fresh products.
It's a mistake to think that you won't be able to cook any good bike touring food recipes. It's always possible to make a tasty, healthy and energy-boosting meal. With these cycle touring cooking ideas, you won't have any more excuses for eating pasta for every meal. Take this opportunity to sample the local cuisine, taste new flavours and enjoy your time on La Vélodyssée to the fullest.
And if you also want to take a well-deserved break at one of the many restaurants along the itinerary, check out our list of favourite dining spots here.
Did you like this?
You may also be interested in this...