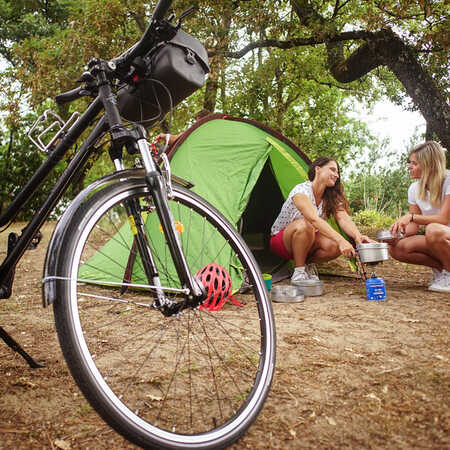 Bivouac et vélo © A.Stapf
south
Bivouac: wild camping
Would you rather be woken by the morning dew instead of a noisy neighbour? Then bivouacking is the perfect choice for you!
The world of microadventures can't stop talking about this one word: bivouac. But what is a bivouac? Where can you do it? Is it risky? We have all the answers you need!
But what is a bivouac? A bivouac is quite simply a basic, temporary campsite. Besides saving you money and time, bivouacking, also called wild camping, offers you a different state of mind. In a bivouac, you sleep as close as one can get to nature, giving you an immersive experience without any real constraints. A guaranteed way to get away from it all!
Regulations: In France, wild camping (legally defined in France as spending multiple nights in the same unofficial campsite) is prohibited throughout almost the entire country. On the other hand, bivouacking (legally defined in France as spending one night, from sunset to sunrise, in an unofficial campsite) is generally permitted, particularly in certain national and regional parks. To avoid any issues, get information online in advance! In particular, you can contact the tourism offices in the towns through which La Vélodyssée passes.