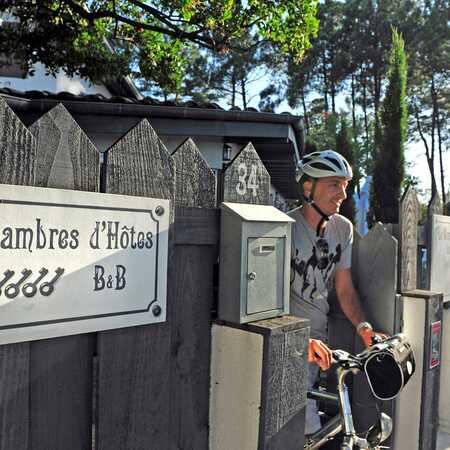 Se loger sur l'itinéraire de La Vélodyssée © J. Damase
south
Where to sleep ?
Hotels, campsites, hostels and other accommodation for groups are available all along the route. Many of them offer specially adapted services to cycle tourists.
Our advice :
Consider booking accommodation in advance, particularly during peak tourism season (July – August and public holiday weekends)
In towns, check with the accommodation where you are staying if there is anywhere to leave your bicycle.  This service is guaranteed by Accueil Vélo service providers.
Confirm the night before or on the morning of your arrival via e-mail or telephone.
If you are not following a specific route, we strongly recommend that you buy a guide listing addresses.
Think about the option of « Pre-Planned Stays » which will let you travel hassle-free and have your luggage transported from one stage to another !