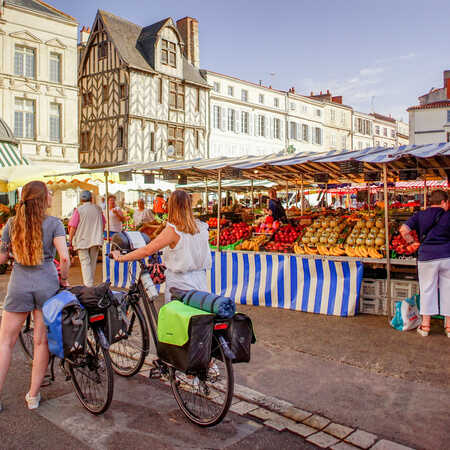 La Vélodyssée, de la Rochelle à Royan © la Vélodyssée - Aurélie Stapf (porteurdesonge.com)
south
La Vélodyssée from La Rochelle to Royan
Proposed by Abicyclette Voyages
A beautiful bike tour of 7 days through the Charente Maritime and the beautiful Ile de Ré and Ile d'Oleron.
As a family, a couple, between friends or solo, we invite you through this stay to discover all facets of the Charentes. From the Ile de Ré to the Ile d'Oleron. From the history of La Rochelle to that of Rochefort, Belle Epoque villas of Chatelaillon-Plage to the 50's architecture of Royan, Marennes oyster beds in the Seudre marshes … you will see it all!

Your cycling routes along the Atlantic coast will take you through a mosaic of unspoilt natural areas and charming cities. Since they use a lot of Vélodyssée greenways, you will travel in peace!
Did you like this?
You may also be interested in this...