I'm travelling to La Vélodyssée by coach
Are you travelling to the La Vélodyssée cycling route by local or long-distance coach?
As of 1 July 2021, in accordance with decree no. 2021-190 of 20 February 2021 relative to the carriage of bicycles on coaches providing freely organised services, all new coaches belonging to private companies and providing a regular intercity service must be equipped to carry up to five bicycles.
As more and more people are travelling to their holiday destination by coach, a review was required of the bicycle transport services offered by coach companies in France.
National services
When you look at a map of the coach network today, it is immediately apparent that the majority of routes serve arrival and departure points on most cycling trails, including La Vélodyssée and its Atlantic coast section.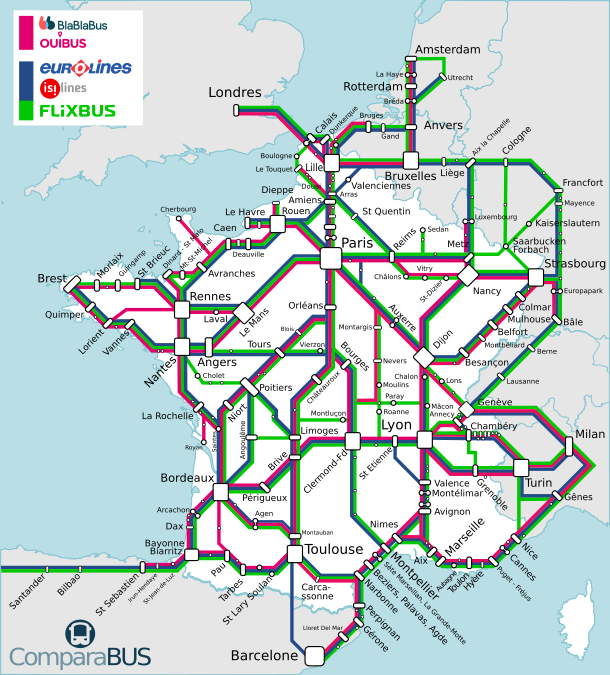 BlaBlaCar Bus
BlaBlaCar Bus, formerly known as OuiBus and iDBus, is prepared to take bikes in the hold provided they are in a travel bag, measure no more than 200 centimetres (length + width + depth) and do not exceed 20 kg in weight, i.e., bikes with their wheels removed and attached to the frame, or folding bikes.
source: https://www.blablacar.fr/faq/question/quels-types-de-bagages-sont-autorises-a-bord-des-blablabus et l'équipe BlaBlaBus
Flixbus 
For the moment, Flixbus will agree to take bikes if they are in an appropriate travel case or bag. It charges €9 per bike.
source : www.flixbus.fr
Regional routes
Some local coach networks allow bikes all year round. In summer, some extra coaches are fitted with rear bicycle racks. Some put them in the hold.
In Brittany
The regional network in Brittany serves Roscoff, Morlaix, Carhaix, Rosporden, Rostrenen, etc. More about coaches in Brittany that will take your bike for free in summer (reservation strongly recommended).
In the Loire Valley
The regional network in the Loire Valley: regional express coach no. 12 Nantes<>St-Jean-de-Monts + no. 13 Nantes<>La Barre-de-Monts/Fromentine and the island of Noirmoutier + no. 17 on the Lila network from St-Nazaire to St-Brevin + weekends in July and August on the no. 71 route between Nantes and Blain.

Saint-Nazaire bridge: the Loire-Atlantique department runs free shuttle buses in summer to St-Nazaire bridge (which connects St-Brévin to St-Nazaire). There are nine buses a day, each of which is able to carry up to eight passengers and their bikes.
In Nouvelle-Aquitaine
Bikes are only allowed in the hold if the vehicle is appropriately equipped, if there is enough space, and if a reservation has been made in advance (if required).
For more information on coach services in Nouvelle-Aquitaine, click here.
In the Landes, the regional network XL'R (€2/bicycle) will take you and your bike from any SNCF railway station to the beach resorts along the La Vélodyssée cycling route: Mimizan, Biscarosse, Parentis, Léon, Hossegor and Capbreton (except during the summer season from 6 July to 1 September 2019 / the same applies to the number 7 between Léon/Capbreton and Capbreton/Bayonne).
The Biscarosse bus network "Bisca Bus" and the summer shuttles in "Côte Landes Nature" (which encompasses the villages of Léon, Vieille-Saint-Girons, Saint-Girons Plage, Contis Plage, Saint-Julien-en-Born, Lévignacq, Uza, Lit-et-Mixe, Cap de l'Homy Plage, Taller, Castets, Saint-Michel Escalus and Linxe) allow bikes subject to available space.
What about international travel?
From the UK or Paris, you can travel to Bayonne in a coach designed especially for transporting cyclists and their bikes (in a trailer).
www.bike-express.co.uk

On the national and international network: service is set to resume on 7 May! A number of long-distance coach companies offer low-cost transport to or from large cities: Eurolines, Flixbus and Ouibus are prepared to take both fully assembled and dismantled bikes. Make sure you read their transportation terms and conditions on their websites.
Doing things right...
Remember: space is often limited, so don't forget to book at least one day in advance!

Tips: arrive 15 minutes before the coach leaves so that you have time to make arrangements for your bike. Make sure you have some elastic bands with you to block the brakes, and a bungee cord to stop your bike moving around in the hold.
Coach + Cycle: there are other options!
Don't have a bike, or your bike isn't in good enough condition? No room left in the train?
Consider having your bike delivered to your final destination (Mimizan, La Rochelle, Nantes, etc.) by BicyBags 
Consider renting a bike that you can return at the end of your itinerary: several companies offer this "one-way" service, such as the fledgling company Paulette.
Rent a bike when you get off the coach or in the area around your accommodation: click here to see of map of "Accueil Vélo" rental companies
Did you like this?
You may also be interested in this...