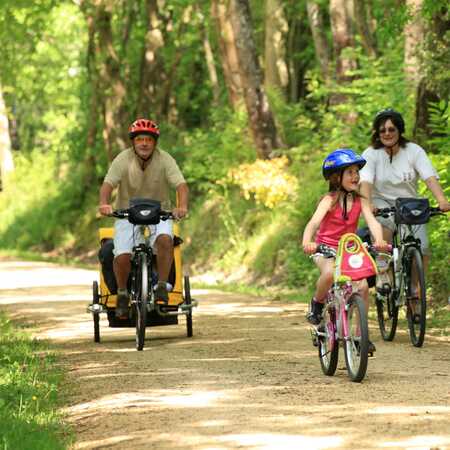 La Vélodyssée en famille avec des enfants © Simon Bourcier - CRT Bretagne
south
Especially for families
A get-away on bikes should always be a pleasure for the whole family, especially with young children. Here are some useful tips for getting ready for your big departure day!
Keep to the greenways
Opt for the sections of La Vélodyssée which are reserved for non-motorised traffic and designed for pedestrians, cyclists, roller bladers and mobility-impaired travellers.  These routes follow canal and river towpaths, former railway lines, coastal walkways and forest and urban park pathways. Greenways are ideal for family cycling.
Be prepared... do you need a bike helmet or not?
Cycling holidays do need the right equipment. Before heading off, it's vital to check the condition of your bike (tyres, brakes and lights). All cyclists, both young and old, should wear a helmet for optimum safety. This will protect your head in the event of a fall! Please note that helmets are mandatory for children under 12 years since March 2017, whether they are passengers or drivers.
Check your child's bike
Is the bike the right size for your child? Is it in good condition?
To find a bike that can be adjusted as your child grows, check out bike sales fairs or classified ads websites!
Don't forget your first aid kit and sun cream!
Be sure to keep a well-stocked first aid kit in one of your saddlebags. Sun cream and mosquito repellent will be your greatest allies once you take to the saddle!
Remember the road safety rules
The Highway Code also applies to bikes. Whatever the distance, it's important to remind your little ones of road safety rules so that dangerous situations can be avoided: cycle on the right, keep looking straight ahead, stop before crossing a road… Read more 
Bring plenty of snacks! And drink lots of water!
Make sure you bring plenty of snacks to boost both energy and morale! Drinking lots of water to keep hydrated is also vital –especially as cycling means riding in the sunshine for a long part of the day! 
Take regular breaks
Don't hesitate to take a break so that you can relax and explore the sights, or go for a swim at the lakes or seaside. There are countless spots for this all along the Vélodyssée route! 
Check the weather forecast
The success of your holiday can depend a great deal on the weather. You'll find the Météo France weather forecast web site and application particularly useful.
Improvise and enjoy!
With 'slow travel' you don't need to plan anything except the route. The main thing is enjoy the countryside and let yourself go and explore….
La Vélodyssée in 6 short videos!
Did you like this?
You may also be interested in this...