By the water, In family, Nature & small heritage
A section of La Vélodyssée with a dedicated cycle path and one rich in waterway heritage: 54 locks and the Rigole d'Hilvern, which epitomises the huge hydraulic complexity of the work required when constructing the canal. Of particular interest are the numerous tree species which, between them, provide very welcome shade from the sun. At the heart of the Rohan Country, this is a very pleasant stage on La Vélodyssée with designated lanes. Shortly after Rohan, don't miss out on the essential detour past Timadeuc Abbey. The impressive fortress, moored to its rocky platform, comes into view as we head towards Josselin.
Waytypes of the stage
Cycle path: 47,88 km
By road: 0,33 km
Surface of the stage
Lisse: 9,52 km
Rugueux: 38,69 km
Itinerary
Several dangerous crossings on this section: RD 32, RD 125 and RD 768.  Very easy going road surface and gentle downhill gradient between St-Gonnery et Rohan. From Rohan to Josselin the itinerary is on dedicated lanes with an easy going surface.  Short cycle down a little lane as you get to the hamlet Le Val just before Griffet Lock.
Take care when changing sides by the RD 764 to Bocneuf-la-Rivière.
Connections
On small hilly lanes towards St-Gérand, St-Gonnery and Gueltas.
On a level with the Timadeuc Lock area, there is a signposted connection to Timadeuc Abbey.There is a small beach near the Abbey.
Did you like this?
You may also be interested in this...
They did it!
favorite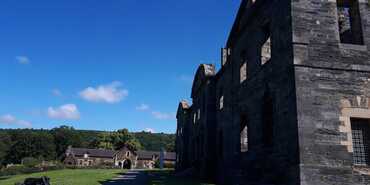 From Hendaye to Roscoff in 15 segments