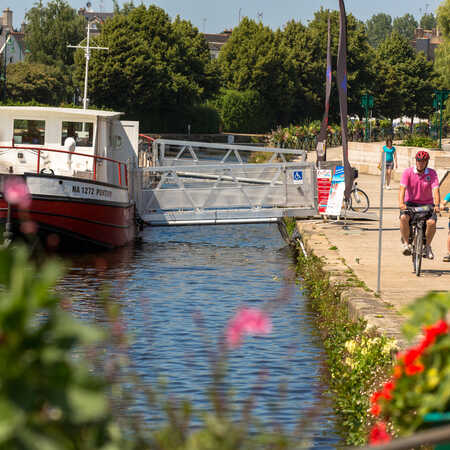 © L'Office de Tourisme de Pontivy sur une péniche ! CRTB - S. Bourcier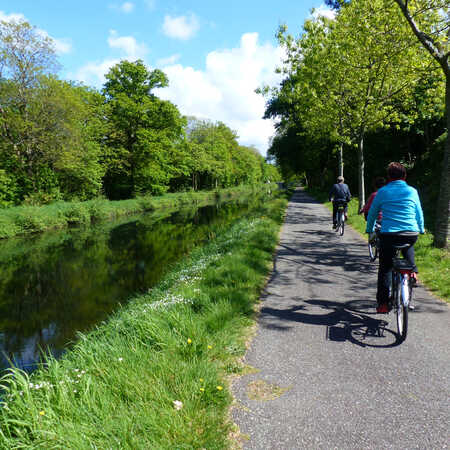 Canal de Nantes à Brest Pontivy velo © OT Pontivy Communauté
south
Cycling in Brittany as a family along greenways and the Nantes-Brest Canal
3 days of biking along tranquil greenways through the heart of Brittany
Want to get away and try out travelling by bike? Ride with peace of mind along this route that mostly follows greenways, along the Nantes-Brest Canal, the Rigole d'Hilvern channel, and the former Central Brittany railway. You'll pass through the green and blue landscapes of inland Brittany: wooded countryside, canal locks, a medieval city, and the great Lake Guerlédan.
Highlight of the itinerary: This route, 96% of which follows greenways along canal towpaths and a former railway, offers an unforgettable experience to share with family or friends.
ℹ️ LOGISTICAL INFO
🅿️  Where can you leave your vehicle?
Car parks in the centre of Pontivy: across from the tourist office or the Place Aristide Briand
🚲 Bicycle hire
🗺️ Route map
🗝️ Ready-made trip
Want to complete this route for yourself? The Pontivy Communauté Tourist Office offers a ready-made trip with reservation of lodging, bicycles, picnics, and meal trays!
Map
Tailor-made itineraries
favorite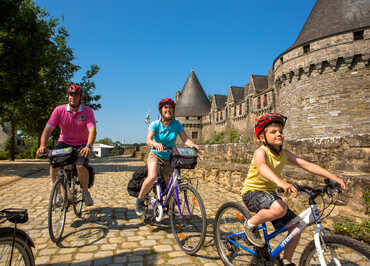 favorite