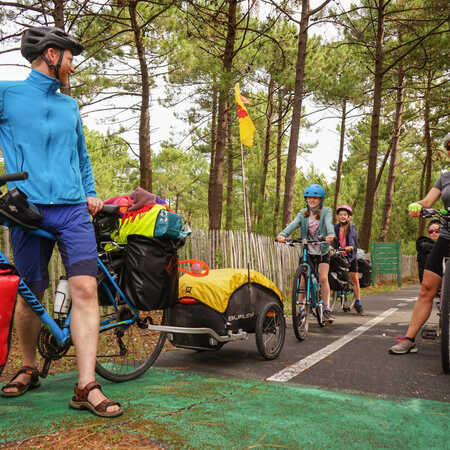 Itinérance avec des enfants © Aurelie Stapf – porteurdesonge.com
south
How to meet new people on your cycling trip
Cycle tourists know that travelling on your bike makes it easy to meet new people. Pedalling on La Vélodyssée is your opportunity to:
Share a moment with family or friends. This is the ideal time to talk and reconnect with each other as you roll along.
 
Meet accommodation hosts who love their work and enjoy a chat over breakfast or an aperitif on the terrace. Your accommodation is also a great place to meet other travellers, cyclists and non-cyclists alike. It is always a good time!
Meet fellow travellers on La Vélodyssée: families, couples, groups, or single riders, young people and less-young people. There are riders going 'down' towards the south and those going 'up' towards the north. You'll meet new people on day trips or a weekend jaunt, and others going long-distance, not even stopping at the end of La Vélodyssée and instead continuing along the rest of the EuroVelo 1 - Atlantic Coast Route.
 
Take a surfing or canoeing lesson with a local professional or go bird watching, guided by a specialist from the Vendée.
Head out to meet the men and women who are the heart and soul of the regions traversed by La Vélodyssée: