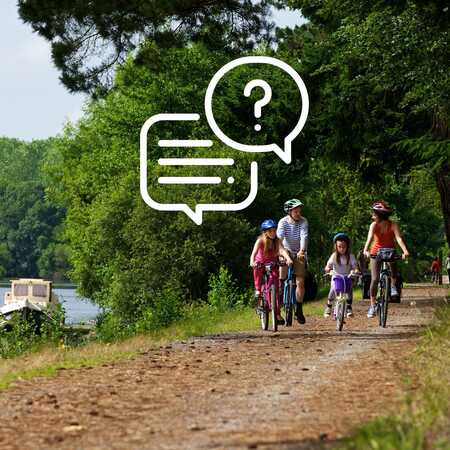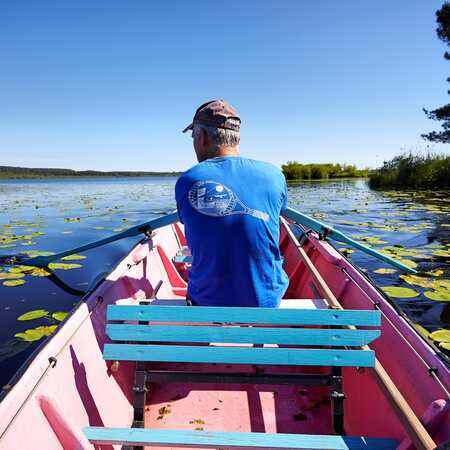 Balade en barque sur le lac de Léon © A. Lamoureux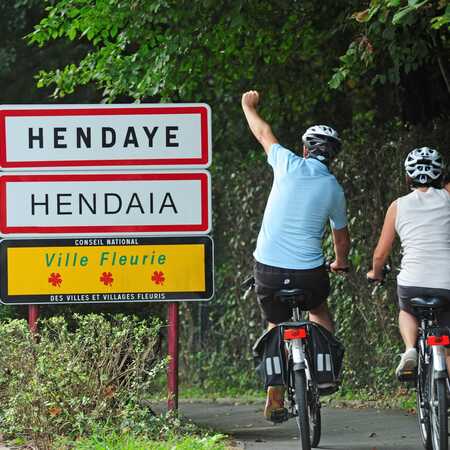 Arriving in Hendaye on La Vélodyssée © A. Lamoureux
south
FAQ
Do you have a question? Here are our answers!
1️⃣ Guiding your way : GPS tracks, guidebooks...
2️⃣ Tourist services : lodging, bike rentals, luggage transport...
3️⃣ Preparing your cycling trip : type of bicycle, train...
---
1️⃣ Guiding your way on La Vélodyssée
GPS tracks in .gpx format
Where can I find GPS tracks for sections of La Vélodyssée?
1.) You can download the GPS tracks for each section in .gpx format directly from the route pages, just below the trail section description.
2.) You can download the complete tracks for the cycling route from the 'GPS tracks' page.
3.) You can generate and download your own GPS tracks with the route planner found on the homepage by entering your start and end points.
How do I open GPS tracks?
GPS tracks available on the La Vélodyssée website can be opened on bike GPS units or on a smartphone using an app (GPX Viewer, OruxMaps, etc.)
Having trouble downloading or opening GPS tracks?
You can contact us and specify the browser used (Safari, Chrome, Mozilla, etc.), the type of device (PC, Mac, Android smartphone, etc.), and the device you want to use to open the tracks (name of the application, name of the GPS unit).
Does the La Vélodyssée website allow location services?
Yes, when you visit the website, a message will ask you to allow the site to access your location.
If you authorise this access, when you are in a section with maps (the routes, Accueil Vélo services), if you click on the circular button, the map will show your location. This allows you to then see where you are in relation to the route and certain services.
Are there guidebooks on La Vélodyssée? 
Yes! Major publishers of cycling and travel guidebooks have published route guidebooks on La Vélodyssée: Le Routard, Chamina, Ouest France, VerlagEsterbauer, and more. They are only available in French, German, Spanish and Dutch (for now).

You can also download and print the route section sheets found on the route pages by clicking the 'Download the PDF' button below the description.
Can you send me documents (e.g. maps)?
We do not have documents that we can send by post. All of the information that we offer can be found right on this website.
For more detailed information about a specific area, we encourage you to contact the local tourism office or departmental tourism commission.
I'm having trouble following signs on the route.
The entire route of La Vélodyssée is marked with signage from north to south, in both directions. Departmental workers very regularly maintain and improve these bicycle signs. However, sometimes a signage problem slips through the cracks... Here are a few tips:
Find your way thanks to the continuity of the route (main path, same type of paving material, etc.).

Look in the distance and try to find the next marker.

Find the marker for the opposite direction. Orient yourself in the same direction as cyclists coming towards you and there is a strong chance you'll find the signs.

Generally speaking, the advice for a cycling trek are the same as for hiking: it's best to take a map or GPS tracks with you.
To ensure a high-quality route itinerary, report any issues you encounter in detail and stay up to date with their developments.
---
2️⃣
Tourist services (lodging, bike rentals, luggage transport, etc.)
Can I rent a bike in one city and return it in another?
Yes, there are options:
I want to have our luggage transported
All Accueil Vélo-certified lodging offered on this website is capable of handling the transfer of your luggage to your next place of lodging. This service may be free or for a fee. Note: Make sure to clearly inform the lodging staff before your stay.
You can also use transport companies that specialise in transferring luggage for cycling trips.
What is the Accueil Vélo (Cyclists Welcome) label?

This mark of quality helps you identify tourism service providers specially adapted to cycling tourism. This can include lodging (hotels, campsites, holiday cottages, bed and breakfasts, etc.) or bicycle rental and repair services, but also tourism offices, tourist attractions, and leisure activities. All establishments with the label must be located less than 5 km from La Vélodyssée and offer a certain number of services specifically for bicycle travellers.

 

On the route pages, you can find these establishments by selecting the type of service you're looking for.  You can also find them here:

Accueil Vélo (Cyclists Welcome) lodging / Accueil Vélo (Cyclists Welcome) attractions
Accueil Vélo (Cyclists Welcome) tourism offices / Accueil Vélo (Cyclists Welcome) bike rental and repair services

 

In person, you can identify the service provider thanks to the Accueil Vélo logo posted at the entry.

Are you a professional who wants to be listed on our website or get the Accueil Vélo (Cyclists Welcome) label? Contact us.

 
---
3️⃣
Preparing your cycling trip
What type of paving material is used on the paths? What type of bicycle should I use to travel on La Vélodyssée?
You can find information on the paving material for each trail section in the 'Route' section under the altitude graphic. On La Vélodyssée, we recommend a touring bike, a hybrid bike, or a gravel bike. In certain places in Brittany, the Loire-Atlantique department, and the Charente-Maritime department, the surface material on certain paths may be irregular and stony, and at times the surface may not be as easy to ride on as tarmac.
Consider an electric-assist bicycle!
The electric-assist bicycle (or EAB) is a type of bicycle, as defined by France's Highway Code, if it complies with the European directive: maximum 250 W with assistance only (the rider still has to pedal). An EAB will be your best friend on trail sections with a steep slope or if you do a long trip and you're not accustomed riding for so long. Check out the EAB rental services below (a non-exhaustive list).
Can I take my bike on a train? 
Please note that not all departmental, regional, or national trains or coach buses are equipped for transporting bicycles. It depends on the age of the train or coach, local infrastructure policies, and whether it's economically advantageous to offer such a service on the line in question.
What is the best time of year to travel on La Vélodyssée?
If you're able to, avoid the high season (15 July to 15 August). During that time it will be very difficult to reserve lodging for a single night. Early and late in cycling season are very nice times of the year: less risk of getting a sunburn, less traffic on the route and in towns, and less waiting in line for a shower in campsites!
How many kilometres can I travel per day? I think I'm too old/too young/too unathletic.
Good news! Any person in normal physical condition can easily bike 40 km per day. Cycling this distance at the gentle average speed of 15 kph gives you time to make many stops and enjoy the scenery. As the days go by, you will be able to extend how far you travel in a day. 
Families

travel more like 20 to 50 kilometres per day

Experienced long-distance cyclists

do around 60 to 80 km per day

The

most athletic

riders can travel up to 120 kilometres per day (travelling at a speed around 25-30 kph).
Do people travel La Vélodyssée from north to south or from south to north?
Both are possible! Typically the cycling route is described from north to south on the route pages of this website and in cycling guides dedicated to La Vélodyssée. However, you can certainly travel in the other direction, from Basque Country to Brittany. The route is marked in both directions.
Can I travel La Vélodyssée with my dog?
Yes, you can bring your dog on La Vélodyssée! However, you should take a few precautions.
What precautions should I take when accompanied by an animal?
French law requires that dogs be kept on a lead on public roads and pavement, as well as in public places. Failure to do so is punishable by a first-degree fine (maximum €38) or even a second-degree fine (maximum €150) if the dog is considered to be a 'category 1 or 2' dog (pit bull, Staffordshire terrier, or Rottweiler). These types of dogs must be muzzled. Above all, use caution when approaching and crossing in front of other trail users.
In the Gironde department, dogs are not permitted on the paved surface of departmental bicycle paths. However, they can walk on the verge next to the path under the supervision of their owner.
Will my dog be allowed to go anywhere (campsites, attractions, etc.)?
Each place of lodging has its own rules. As such, you will have to find out when making your reservation whether they accept dogs or not.
You may have to pay an animal surcharge.
If the place of lodging accepts dogs, they must be vaccinated against rabies (you may have to show proof of vaccinations) and they must be kept on a lead. Dogs in categories 1 and 2 are forbidden.
Furthermore, dogs are prohibited in food stores and at many beaches in the summer.